2016 Taught Us These 3 Lessons
If 2016 has taught us anything, it is to expect the unexpected. So as we wrap up a rollercoaster of a year, I find myself looking back to three surprises and the lessons they taught us. In the same way the bottom of a cup is revealed only when the liquid is quickly stirred, sometimes it takes a whirlwind of the unexpected to remind us of a few simple truths.
First, Never Discount the Power of Democracy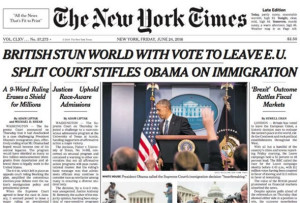 Consider Brexit, the unknowing precursor to the U.S. election. Despite heavy campaigning for the status quo, there appeared to be a deep interest by the people in social issues like immigration: issues largely ignored by those same bureaucrats. Ultimately voters made their decision.
Following our first surprise of the year forecasters predicted an economic rout in the U.S., with scary stories of financial calamity. The worst of which claimed the European stock market and their currency, the euro would not survive. What happened? Over a couple of days, the S&P 500 went down close to 6%, shook out "weak shareholders", and then promptly marched higher.
The Lesson – Focus on the Plan, Not the News
Successful investing is goal-focused and planning-driven. Most of the failures in investing are market-focused and performance-driven. The really successful investors I've known are continuously acting on a plan, ignoring the fears and emotions of the moment. Investors I have seen fail continuously are those who randomly react to economic and market "news".
Second, Even Underdogs Can Win
This year would prove that even curses have a way of correcting themselves given enough time. Just ask our second surprise of 2016, the Chicago Cubs.
It took 108 years for this team to finally win a World Series. They hold the undignified record of the longest drought in all major North American sports. But a come-from-behind victory would see the underdog of American baseball win its first championship in more than a generation.
It's the quintessential Cinderella story, and great metaphor for America. The Cubs, in a small way, did what America does: we fight back and we do what it takes to win.
The Lesson – Focus on the Long Term
Most of our clients are working on a multi-decade and even multi-generational plan for their goals. The markets are always volatile in the short term, but throughout all of history they have continuously gone higher, given a long enough time horizon. Building riches can be quick, but building wealth takes time.
That's why we believe in the education of families, helping them to make smarter choices about what and how they contribute to our society. This is the legacy our clients will leave behind. This is what drives our advice to our clients, not the headline today or tomorrow. Rather we align and advise client's portfolio with their most cherished goals.
Third, It Ain't Over Till It's Over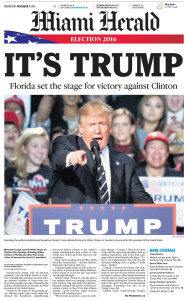 The last major surprise of 2016 (knock on wood) is obviously President-elect Donald Trump. Here we have a candidate largely underestimated and in my opinion routinely attacked by traditional news outlets. Yet despite the odds and polls, our country elected him to be the leader of the free world.
The Lesson – No One Has a Crystal Ball
Ahead of the election, major news outlets were convinced Hilary Clinton would win, their only question was by how much. How wrong they were. And how scary it is to look at these institutions, the ones we are supposed to trust with accurate and timely news, and realize there are significant cracks in the concrete.
Though frequently asked, we do not forecast the economy or the markets over a short-term period. We don't attempt to "time the markets", nor do we believe anyone can consistently predict future performance of specific investments based on past performance. We are planners – not forecasters.
But more importantly our highest valued services – where we really make a difference is in planning and behavioral coaching. Helping clients avoid over-reacting to market events both negative and positive.
In 2016, two of these three surprises created volatility. Volatility is uncomfortable in the short-run, but normal and necessary in the long-run.
You see, the nature of successful investing is the practice of being rational in the midst of uncertainty. We never have all the facts or can see everything, thus uncertainty is always there. We invest in and for an unknowable future. This is why we practice with these principles of long-term investing that have reliably yielded favorable results over time:
Planning
A rational measure of optimism based on experience,
Patience and Discipline
These are the building blocks of our advice in the past, the present, in 2017 and beyond.
If you know of someone who is confused by all the noise and mis-information, and would benefit from a listening ear and wisdom, feel free to forward this article and video to them. We love helping people solve problems. Best wishes for you and yours in the coming year.
https://prosperion.us/wp-content/uploads/2016/12/2016_Taught_Us_screenshot.png
477
852
Steve Booren
https://prosperion.us/wp-content/uploads/2017/02/whitelogosized.png
Steve Booren
2016-12-15 19:15:16
2017-03-10 13:21:27
2016 Taught Us These 3 Lessons