There's a growing gap in America between what the financial markets are doing, and how people feel about the economy. With continued somewhat positive news like this week's auto sales data, the beginnings of a European recovery and slightly better housing numbers, the market continues to truck along. However, consumer confidence refuses to post any significant gains.
I believe this is due to a recession, but not the financial recession type we've grown familiar with. Instead it is a "confidence recession", and it's having a major effect on investors.
Consumer confidence, or the outlook of the typical consumer, hasn't recovered since 2008. That's strange, given that the economy appears to be improving, as illustrated below.
Consider housing as an example. Housing prices, which took the brunt of the decline in 2008, are starting to recover. In some of the hardest hit areas of the nation such as Arizona, housing demand and prices are up nearly 30% from their bottom according to prominent housing analyst, the Case-Shiller Institute.
Automobile sales are also on the rebound. In 2008, slow bank lending drove auto sales to a screeching halt. The September 2012 auto sales were up 8.8% year over year according to the Wall Street Journal Tuesday.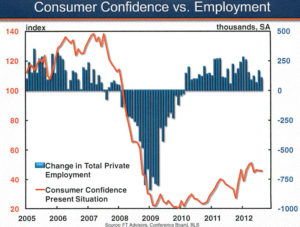 Job creation may be the most important signal of an economy on the rebound. When business owners are confident, they tend to hire more. Despite modest positive job growth numbers, our current progress feels anemic compared to past recoveries – another sign of doubt in consumers' minds.
Above all, the markets are responding appropriately to the good news. Take a look at the numbers for year to date and 52 week.
Things are looking up, but ask the average person what he or she thinks about the economy and the answer will almost certainly be negative. I think this could be caused by uncertainty in four main areas:
The government's budget (or lack thereof) – With massive federal and local spending, our governments are in deep deficits. We have a long way to go to eliminate this debt. A balanced budget would be a good start.
Potential Tax Increases – Expiring tax cuts and the November election have investors questioning tax rates for next year. The potential for an increase is enough to keep investors on edge.
Government Regulation – Government regulation in emerging businesses is having a painful effect on progress. Take energy for example: some companies are uncertain whether they will build coal or natural gas power plants. Government regulation only pollutes their decision-making and complicates the process.
Healthcare Costs – Healthcare costs are probably the single greatest inhibitor to employers being willing to take on the risk of hiring people. Until healthcare reform is either widely adopted or repealed, the question of ballooning healthcare costs will weigh on business owners (who are the job creators) and investors' minds.
I anticipate the next few months will bring greater clarity on these uncertainties and when they do, the confidence recession will be over. I think we'll see a corresponding uptick in the markets as people return to thinking positively about the U.S. economy, increasing consumer confidence. Short-term there continues to be uncertainty, but long-term I am very optimistic.
If you have questions about your particular situation feel free to contact us.
Thank you for investing your time and attention.
The opinions voiced in this material are for general information only and are not intended to provide specific advice or recommendations for any individual. To determine which investment(s) may be appropriate for you, consult your financial advisor prior to investing.

All performance referenced is historical and is no guarantee of future results. All indices are unmanaged and cannot be invested into directly. Stock investing involves risk including loss of principal. The Dow Jones Industrial Average is comprised of 30 stocks that are major factors in their industries, and widely held by individuals and institutional investors. The Standard & Poor's 500 Stock Index (S&P 500) is an unmanaged capitalization weighted index of 500 stocks designed to measure performance of the broad domestic economy through changes in the aggregate market value of 500 stocks representing all major industries. The NASDAQ Composite Index measures all domestic and non-U.S. based common stocks listed on The NASDAQ Stock Market.

Securities offered through LPL Financial. Member FINRA/SIPC
Sources:
First Trust Economics

LPL Financial Research

Case-Shiller Institute – August 2012

Wall Street Journal – 10.02.2012 https://online.wsj.com/mdc/public/page/2_3022-autosales.html
https://prosperion.us/wp-content/uploads/2017/02/whitelogosized.png
0
0
Steve Booren
https://prosperion.us/wp-content/uploads/2017/02/whitelogosized.png
Steve Booren
2012-10-05 20:44:02
2017-05-23 13:05:28
The Uncertainty Gap