Perspective is Everything
The daily noise of stock updates and news can be confusing. Rather than educating investors, it can distract and mislead those who pay too much attention to it. That's especially true in today's global economy and markets.
I've been an advisor for over 34 years in a variety of markets and circumstances. All those years gave me a slightly different perspective than a typical investor. I've seen the cyclical nature of the market first hand, so I try not to get caught up in the latest and greatest on CNBC.
Instead I focus on the long term and I recently came across a graph illustrating my perspective. It seems as though the markets have been disappointing for a long time – long enough to have some investors wondering if they'll stay that way. But I think the opposite is true.
Markets tend to be directional in long cycles – this chart illustrates the average structural market cycle is approximately 14 years. Keep in mind that I approach averages with the same caution that I approach opportunity. But with 12 years of disappointment and fluctuation under our belts, it sure feels like a change could be around the corner.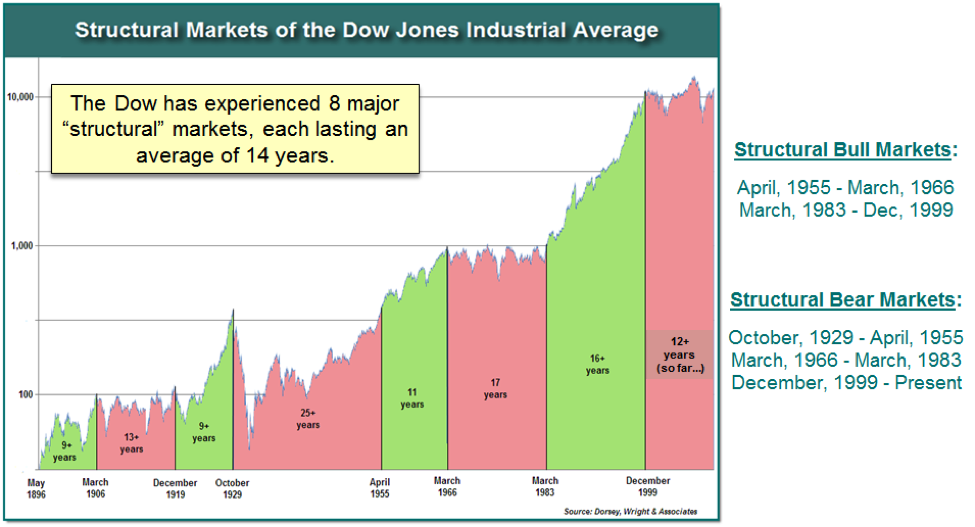 In his book Unexpected Returns: Understanding Secular Stock Market Cycles Ed Easterling of Crestmont Research shares a similar perspective. He makes the argument for market seasonality over long stretches of time similar to the graph. The idea of a cyclical market is nothing new, but we tend to forget the long-term perspective in favor of the day-to-day distractions on the news. When I step back for a second and look at a graph like this, or read a book like Easterling's, I'm excited about the possibilities of the next couple years.
This perspective makes me irrationally optimistic about the future. Yes, we have issues (or opportunities, as I like to see them.) We have the entitlement (Social Security, Medicare, Medicaid) problems – but they are solvable. We have a spending problem in Washington – but it is solvable. We have regulation problem, and so forth. Now I don't know when these problems will be solved, but with enough time they will be.
I do know this: the go nowhere volatility of the last decade is getting a little old. After 12 years we're getting close to the average illustrated in the graph. I also know when things are confusing, opaque, and uncertain that is also an indicator of opportunity.
I think investors let emotions lead them to mistakes, and when I see the flow of funds moving out of traditional investments and into more conservative holdings I smell opportunity. If and when rates rise, I think those who went conservative in the last few years for "safety" are going to get a lesson. Likewise I think those who invest in great companies with rising dividends are going to get a lesson in how the markets work.
Perspective – It is everything, when you have it.
The payment of dividends is not guaranteed. Companies may reduce or eliminate the payment of dividends at any given time.

Stock investing involves risk including loss of principal.

The Dow Jones Industrial Average is comprised of 30 stocks that are major factors in their industries and widely held by individuals and institutional investors.
Sources:
Dorsey Wright & Associates - Chart

The Wall Street Journal

Lipper Weekly US Fund Flows https://www.lipperweb.com/Commentary/lipper-weekly-u-s-fund-flows-video-series-june-6-2012.aspx
https://prosperion.us/wp-content/uploads/2017/02/whitelogosized.png
0
0
Steve Booren
https://prosperion.us/wp-content/uploads/2017/02/whitelogosized.png
Steve Booren
2012-06-27 20:22:58
2017-02-16 14:49:23
Perspective is Everything