The Fear of Uncertainty and the Uncertainty of Fear
"We have nothing to fear, but fear itself."
With those words FDR accepted the presidency of the United States in 1933 during one of the most turbulent times in American history. Lesser known are the words that surround that key sentence.
"So, first of all, let me assert my firm belief that the only thing we have to fear is fear itself—nameless, unreasoning, unjustified terror which paralyzes needed efforts to convert retreat into advance. In every dark hour of our national life a leadership of frankness and vigor has met with that understanding and support of the people themselves which is essential to victory."
But human nature is a funny thing. As a society we tend to be emotional and sensitive to fear. Fear preys on our emotions, which in turn have the power to overrule logic, reason, and even common sense.
Putting aside fear is not an easy thing to do, especially faced with the uncertainties of modern life. But if we can, a different story emerges. Notice this chart going back to 1900, courtesy of JP Morgan. The whole history of equities in our country has been one of long-term growth, on average 10% growth year over year since the inception of the S&P500 in 1928.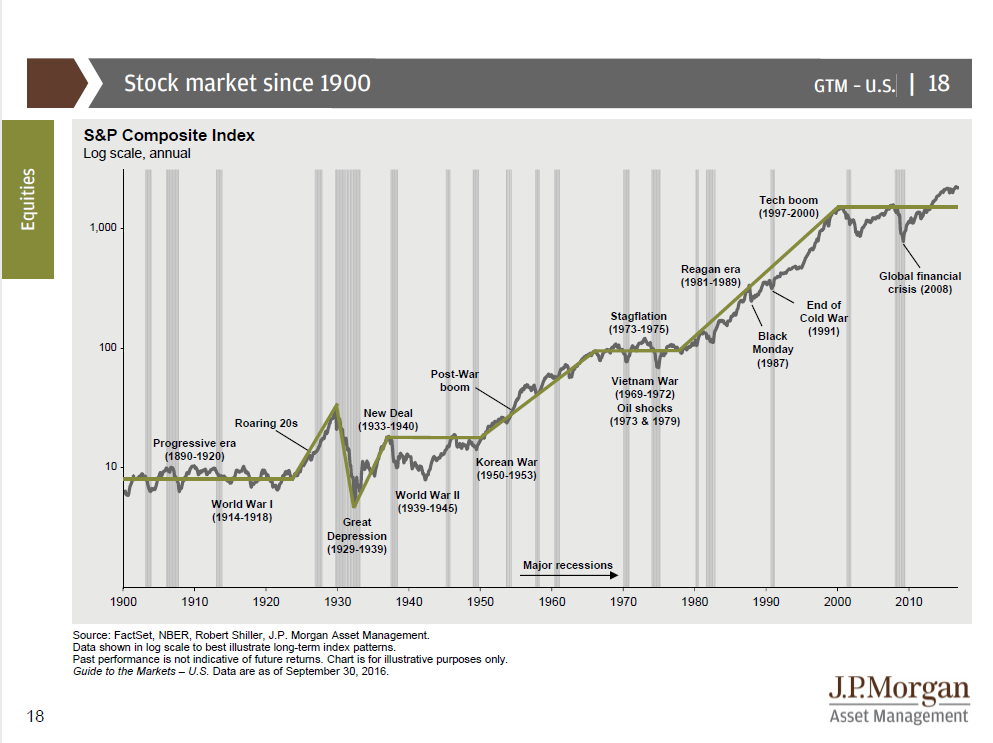 However, those higher highs are randomly punctuated by cyclical and sometimes event-driven pullbacks. We are no stranger to being temporarily knocked off course by the crisis du jour. The challenge is remembering the transient nature of these moments, and not allowing yourself to be swayed by an emotional response or noise.
Our global population not only grows, but becomes wealthier, healthier, and lives longer. The world is rapidly growing more and more middle class consumers, savers and investors. Information and technology is not just growing – it is growing exponentially. And America, with all its problems and issues, continues to be the most innovative, entrepreneurial, open and transparent economy in the world.
A more recent perspective is in this chart, over the past six years, from March of 2009 to the most recent quarter ending September 2016, stock indexes have more than tripled. This is inclusive events such as several quarters of declining earnings, a meltdown in the energy sector, a variety of concerning geo-political events, and Brexit. But during that time, stock indexes have pulled back, only to shake out the weak shareholders, then advance ahead.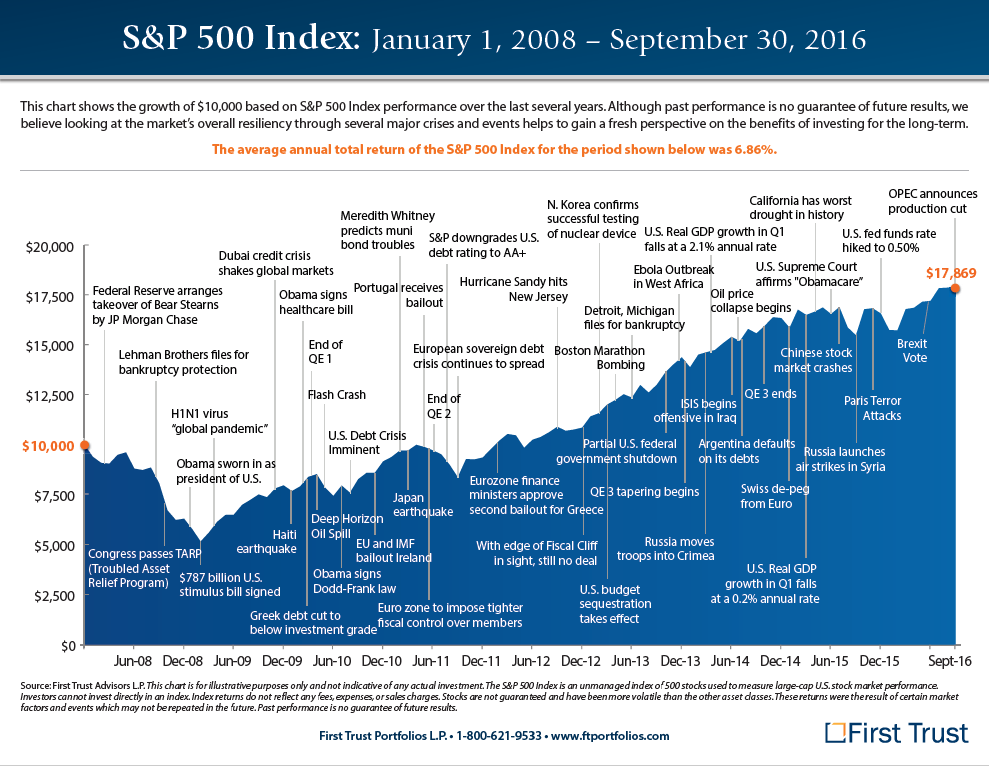 Interesting that the pain of losing money is twice as bad as the joy of making money says behavioral finance author Richard Thaler. That reality is a leading emotional contributor to poor investor behavior. We exist to help keep clients on track, on their plan, and safe from knee-jerk reactions – and I think it may be the most valuable thing we do.
Even in the most challenging of economic times, Roosevelt continued:
"Yet our distress comes from no failure of substance. We are stricken by no plague of locusts. Compared with the perils which our forefathers conquered because they believed and were not afraid, we have still much to be thankful for."
Remember, fear is the greatest enemy of logic and reasoning. We're here to help, so if you have questions, concerns, or just want to talk, give us a call.
The opinions voiced in this material are for general information only and are not intended to provide specific advice or recommendations for any individual security. To determine which investment(s) may be appropriate for you, consult your financial advisor prior to investing. All performance referenced is historical and is no guarantee of future results. Indexes are unmanaged and cannot be invested into directly.

Economic forecasts set forth may not develop as predicted.

The S&P 500 Index is a capitalization-weighted index of 500 stocks designed to measure performance of the broad domestic economy through changes in the aggregate market value of 500 stocks representing all major industries.
https://prosperion.us/wp-content/uploads/2016/11/the_fear_of_uncertainty.png
425
760
Steve Booren
https://prosperion.us/wp-content/uploads/2017/02/whitelogosized.png
Steve Booren
2016-11-11 21:55:49
2017-03-10 13:40:39
The Fear of Uncertainty and the Uncertainty of Fear