PRESS RELEASE: DA Welcomes Prosperion Financial Advisors as New Community Partner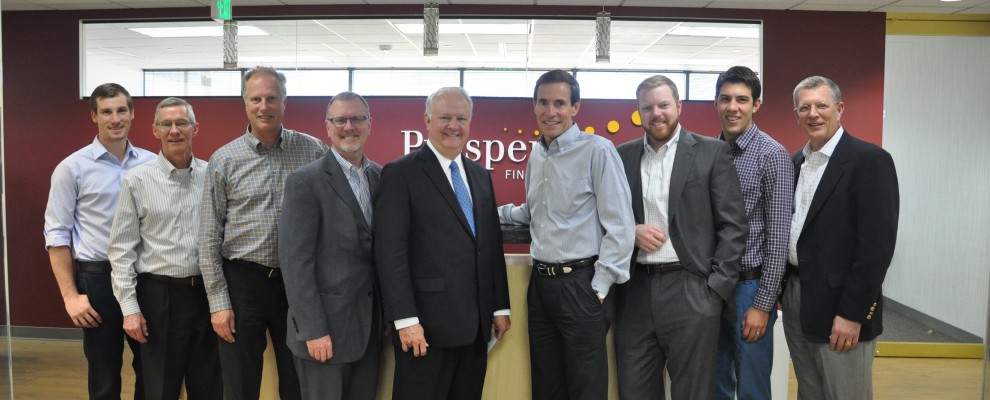 (Golden, CO – August 11, 2015)  Prosperion Financial Advisors joins with the First Judicial District Attorney's Office in providing vital crime prevention services to seniors in our community. Prosperion Financial Advisors donated $10,000 to the DA's Power Against Fraud program which provides crime prevention information and resources for seniors.  In gratitude for Prosperion's community support, District Attorney Pete Weir thanked Prosperion founder and owner Steve Booren in a commemoration ceremony in June.
"We are delighted to welcome Prosperion as a community partner and we appreciate their generous contribution very much. This is a great example of how the private and public sector can work together to better serve our citizens," said Weir. "Jefferson County has the largest senior population of any county in Colorado and its growing. We welcome partners in prevention who want to help us protect our most vulnerable citizens."
The DA's Power Against Fraud program provides a Fraud Hotline, 303-271-6980, free 911 cell phones for seniors, and free educational presentations to help protect seniors from becoming victims of identity theft and other fraud.
This generous gift from Prosperion will also be used to support the DA's 7th Annual Safety Fair on August, 22, 9:00 a.m. – 1:00 p.m. at the Jefferson County fairgrounds.
Since 1996, Prosperion Financial Advisors has provided a full-range of financial services including retirement planning, investment management, financial planning, and tax and estate planning. Headquartered in Greenwood Village, Prosperion serves a broad demographic of businesses and individuals seeking financial independence. They are dedicated to the well-being of their customers and in addition to the financial services they offer they also provide educational programs and resources, both inside and outside of the financial arena. For more information on Prosperion go to www.prosperion.us
The District Attorney's Office established the District Attorney's Community Partnership 2007.  Its 501(c)(3) tax status enables the community to share the costs of valuable crime prevention programs that might otherwise not be available.
https://prosperion.us/wp-content/uploads/2015/08/jefferson_county_district_attorney.jpg
400
990
Steve Booren
https://prosperion.us/wp-content/uploads/2017/02/whitelogosized.png
Steve Booren
2015-08-11 19:48:08
2017-12-07 15:01:06
PRESS RELEASE: DA Welcomes Prosperion Financial Advisors as New Community Partner