The Good in the Gray
It is fascinating to watch and listen to the narrative of media within our country. We have a tendency to take sides on any given issue, resulting in a constant battle between good and evil, black and white, up and down. Then, when citizens attempt to turn off the noise, both sides yell louder in an attempt to keep their viewers' attention.  But the increasing drone of worthless drivel has the effect of drowning out the good news, the important news, the news we should actually be paying attention to. Today I want to walk through some of those news items that have really interested and inspired me.
Let's start with the unemployment rate, which has fallen considerably from the 10% area down to the mid 5% area. Yes, there are undertones of what the unemployment rate is made up of including under-employment. But the number of people entering retirement is also a consideration. Overall, job openings are equal to jobs filled.
Also look at how the Federal Deficit has fallen since 2009 from $600B per year. No country can continuously deficit spend and expect an opportunistic outcome, but we are on the right side of the trend.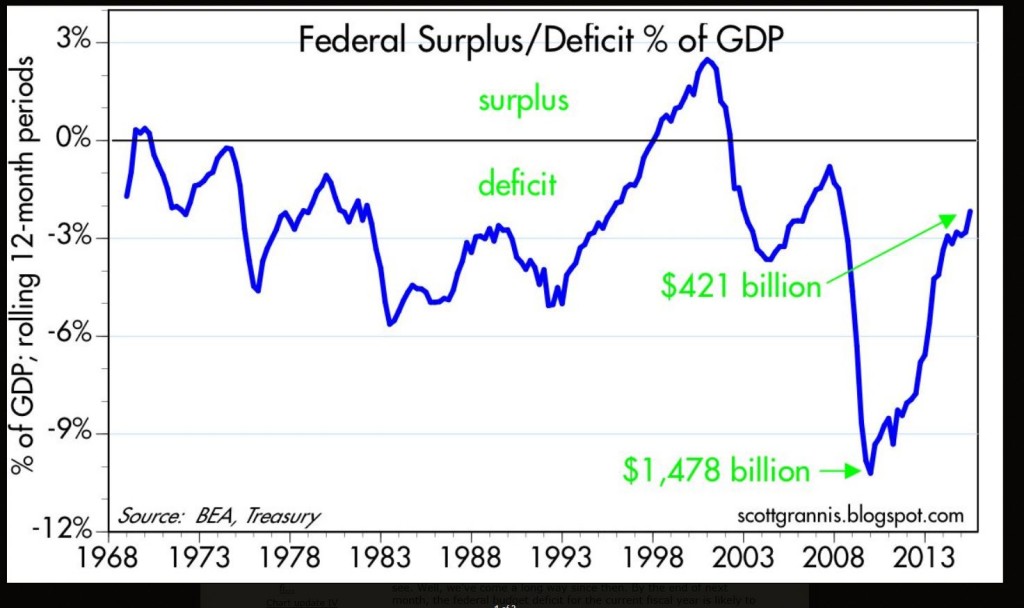 Next is energy and oil production. The United States has gone from producing 5 million barrels of oil per day in 2009 to over 9.5 million barrels per day in 2015. It is incredible what has been happening in the past few years. How can this be happening? Compare our production with Saudi Arabia – they have been pretty "flat" and we are increasing at an almost parabolic rate.
This can be attributed to the change in production from wells today versus just four years ago. Oil wells in the Bakken and Eagle Ford formations went from a little under 200 barrels per day, now up to 6-700 barrels per day. How you may ask: innovation and technology. This means less drilling and capital investment. More product, less expense. We should be shouting praises that deafen the political noise.
In other areas of energy, for the first time ever America produced more electricity from natural gas than from coal. First time ever!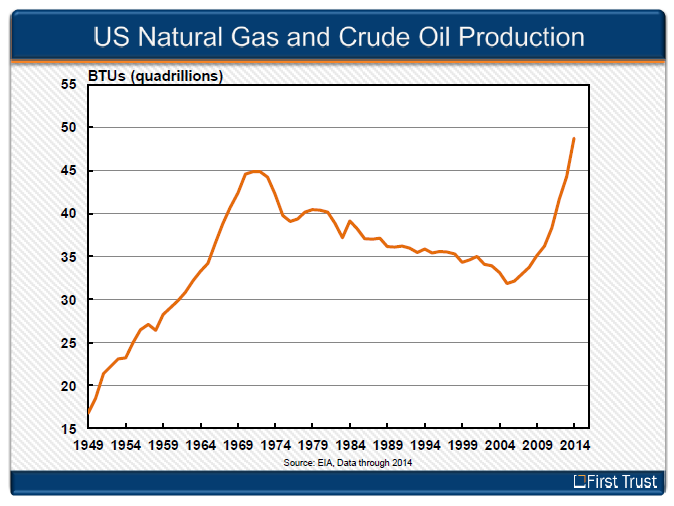 And consider the price of gasoline versus other liquids.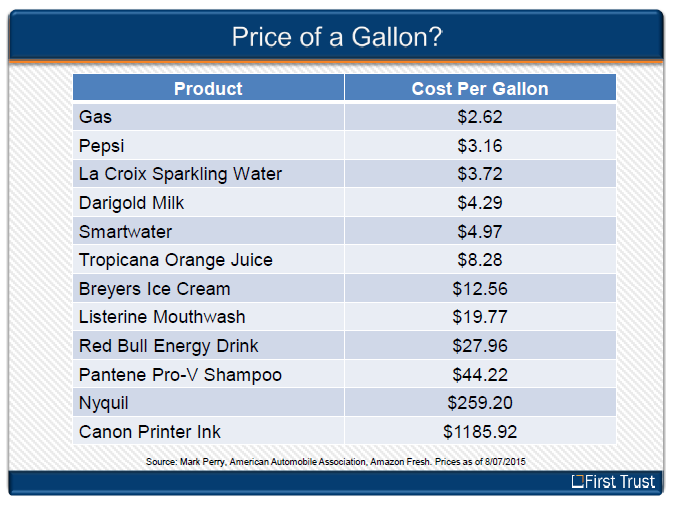 In 2015, America will produce 89% of the energy we consume. This is truly a remarkable achievement, and one that's almost completely absent from the daily news cycle.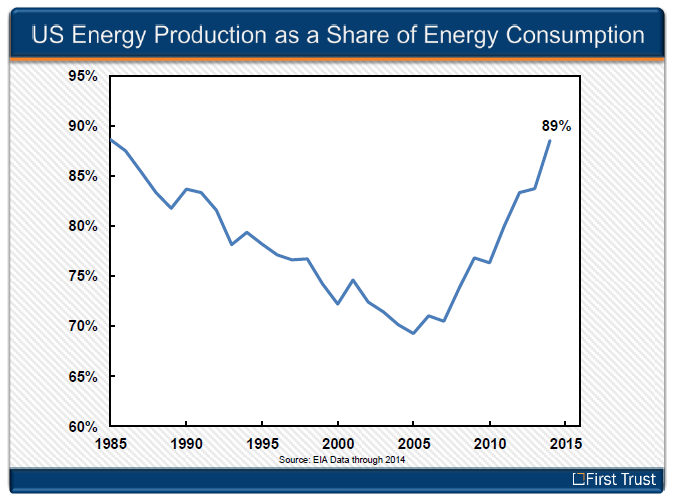 Next is labor. The common argument says America's labor is too expensive to compete on a national basis. Look at this chart, and notice Germany, France, Italy, the U.K. and even Japan have significantly higher labor costs in manufacturing than we have. Looks like the status quo is changing. This is due in part to the low cost of natural gas and electricity, the essentials for manufacturing. Lower costs help to drive down the expense of manufacturing, giving us an unfair advantage.
Immigration is another polarizing topic that comes to mind. In reality though, nearly every American is an immigrant or has immigrant roots. Look at the percentage of industries with companies founded by immigrants. From defense, to environmental, biosciences, manufacturing, software, technology, there is nary an industry untouched and improved upon by immigrants. Immigration helps drive innovation, why would we intentionally stymie ourselves in this area?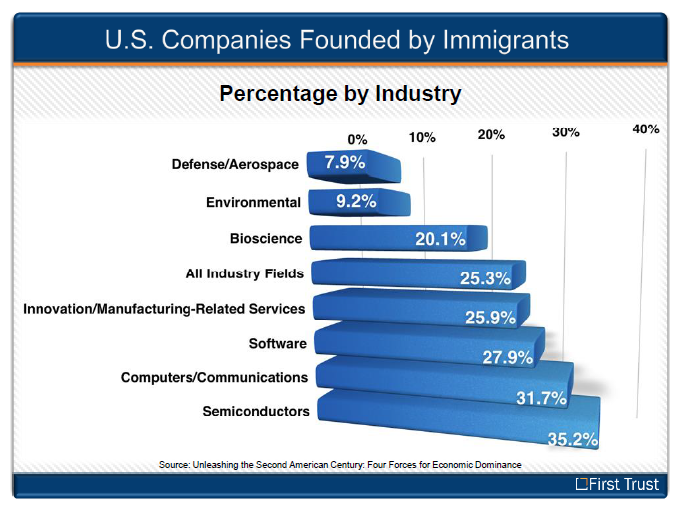 Lastly, look at population and labor force birth rates. Clearly India, a country with rule of law, is growing at an incredible rate. Next on the list in 2050 is the USA – made up of our current population, a positive birthrate and immigration. Now look at those countries that we seem to "fear". Russia, China, Japan, and for that matter much of Europe are declining.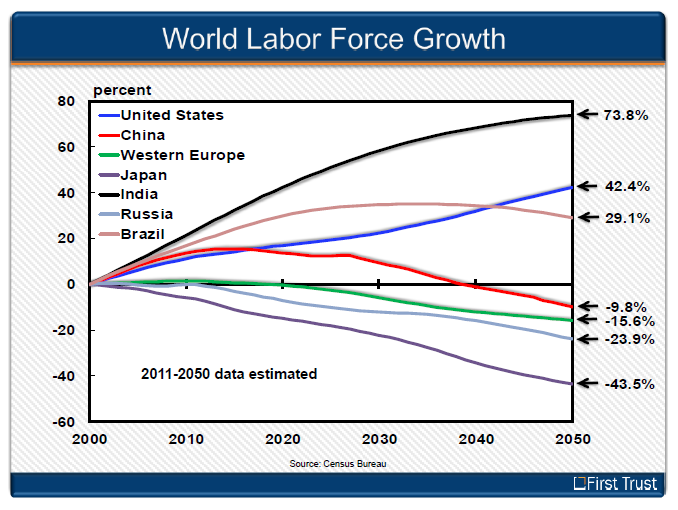 Yes, there are problems, but we work out our problems. Sometimes that means yelling because we are passionate about what we believe in. Heck, we put a man on the moon with a slide ruler and this year we landed a satellite on a moving asteroid. Over and over, we create examples of doing more with less.
Don't bet against America. I believe America has many unfair advantages, several of which we've illustrated here. The best of which is our unfettering initiative. Don't bet against us.
If you would like to have a conversation about what I have covered today, or a conversation about your future, we welcome it.
The opinions voiced in this material are for general information only and are not intended to provide specific advice or recommendations for any individual.
https://prosperion.us/wp-content/uploads/2015/10/good_in_the_gray.png
422
755
Steve Booren
https://prosperion.us/wp-content/uploads/2017/02/whitelogosized.png
Steve Booren
2015-10-16 17:47:16
2017-03-15 14:49:01
The Good in the Gray