3 Reasons Why Market Volatility Shouldn't Get You Down

It's easy to feel like your investments are on a rollercoaster ride on a daily, weekly, and monthly basis.
Looking at historical market data shows us that, while potentially unnerving, short-term market fluctuations are normal. This holds true in many years that ended with a positive overall return.
If you find that hard to believe, take a look at this chart from LPL Research.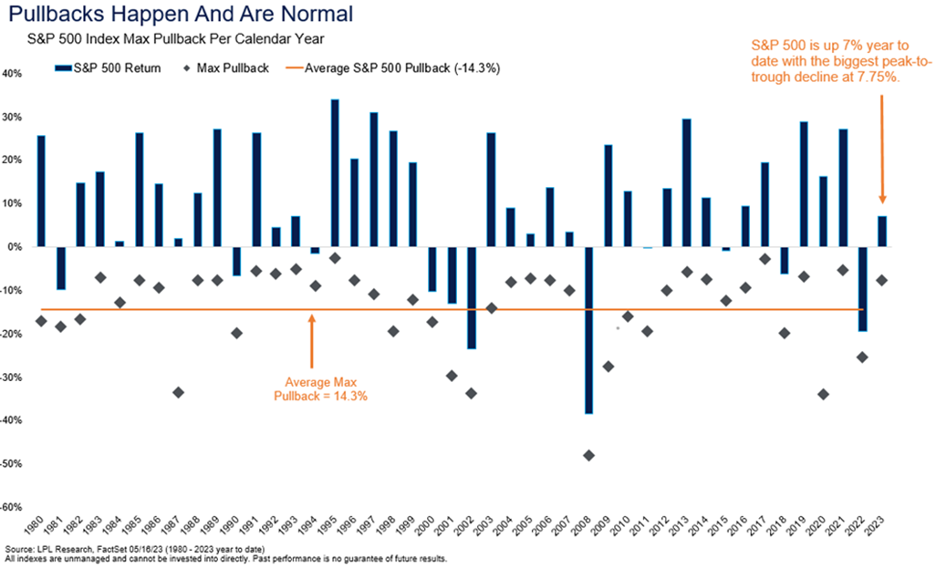 What three insights should investors take from this chart?
In an average year, since 1980, stocks have fallen 14% intra-year and ended the year 10% higher.
Also, consider stocks experience an average of three 5-10% pullbacks and one 10% or larger correction each year.
Close to 80% of the last 40 calendar years have finished with positive returns, even while experiencing a drawdown (sometimes significant) during the year.
There is no way to know which way the market will fluctuate in the short run.
We only know that the market will fluctuate.
But these fluctuations are to be expected, not to be feared.
When investors ignore the noise and patiently focus on the long run, they might find it a little easier to enjoy the ride.
The opinions voiced in this material are for general information only and are not intended to provide specific advice or recommendations for any individual.

All performance referenced is historical and is no guarantee of future results.
https://prosperion.us/wp-content/uploads/2022/06/roller-coaster.jpg
762
1250
Danny Kellogg
https://prosperion.us/wp-content/uploads/2017/02/whitelogosized.png
Danny Kellogg
2023-05-22 11:56:51
2023-05-22 11:56:51
3 Reasons Why Market Volatility Shouldn't Get You Down