The Italian Job
As financial advisors we have the good fortune of working with people and their families at a very personal level. I often hear personal stories, some of which are very inspirational and insightful. Sometimes they even help me to live a better life.
As some of you may know, I took a trip to Italy last month with my son Kyle. In April my brother invited us to join him and his family in Greece for a vacation. Kyle and I couldn't pass up the opportunity and wanted to do some travel on our own, so we honed our sites in on Italy. Now travelling to Italy is challenge enough for someone who's only been to Cancun and Vancouver, but I wanted to take it a step further.
I wanted to do it on a motorcycle.
I wanted to explore Italy the way it was meant to be explored. Top down, sun on my skin, able to easily dart in and out of traffic… I wanted to experience Italy the way so many Italians do. And it would be a great way to connect with Kyle, after all, he loves his motorcycle. There was only one small problem.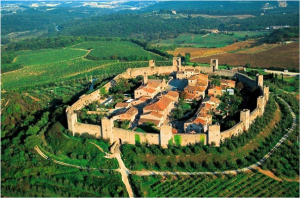 I'd never ridden a motorcycle.
I know what you're thinking. "This guy is crazy. My (insert friend/family name) rode a motorcycle and hurt themselves."
You're not alone. Everyone I mentioned the idea too had something similar to say. No one believed that in a month and a half I was going to buy a motorcycle, learn to ride it, fly halfway around the globe and throw myself into an Italian roundabout and expect to come back alive.
On the other hand, it would be the trip of a lifetime. It would be a chance to connect with my son and to see an incredible country. Talk about a risk/reward scenario. So for the first time in a long time, I decided to really step out of my comfort zone. We were going to do this and it was going to be awesome.
I started by Googling "Italian motorcycle rentals" and selecting the first name that popped up in the search engine, CIMT: Central Italian Motorcycle Tours. It sounded legitimate, so I filled out the forms and paid the deposit. It was the point of no return. We'd start the trip on July 23rd.  In less than 45 days we'd explore Italy by motorcycle.
Humble Beginnings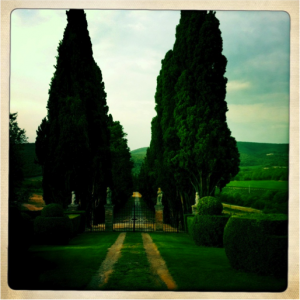 On June 9th Kyle stopped by and let me ride his motorcycle in the parking lot. Having just completed a motorcycle safety class, Kyle passed along some riding tips. After a successful lap I was feeling inspired. I went on Craigslist to look for used motorcycles and found a 2008 Kawasaki Ninja 650R with 3,400 miles. For those of you without a motorcycle background, the Ninja isn't exactly a timid bike. It's one of those red sporty motorcycles kids drive. I fell in love with it. Armed with $3,500, Kyle went out to Golden and came home with it. It was time to learn how to ride.

I signed up for the first motorcycle safety class offered. It was a two day course scheduled for June 16th/17th designed to teach the basics. Prior to the class I spent the week registering the motorcycle, getting insurance and filling out the license paperwork. With less than a month to go, I cautiously navigated my motorcycle onto a public road for the first time.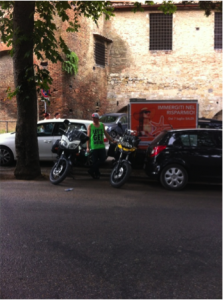 The experience was terrifying. Every car that whizzes by blows a massive amount of air onto a motorcycle. I was tossed around like a leaf blowing in the wind. It was an experience unlike anything I had ever tried, but it was incredible. With less than a month to go I found myself on weekend rides to Breckenridge, Winter Park and Glenwood Springs, all the while gaining confidence in my riding abilities.
After a month of nervous preparation, the day finally came.
Arriving in Italy
Upon arriving in Rome we took a shuttle to our hotel located in the historic area. Along the way we passed a scooter accident (of course). Close to the center of Rome, traffic increased and the roundabouts were organized chaos. Any gap in traffic was immediately filled with a scooter.  They were everywhere. It was then that it hit me; I had no idea what I was doing.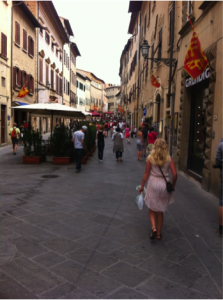 Monday morning we took a cab to the address listed on the webpage I'd printed back in early June. It was a relief to see a real person and motorcycles greet us. We met another rider in the garage, Gordon, who rode with us the first day. He was on his way to a wedding and instead of taking a train he wanted to do something a little different.  Leaving Rome we had no specific route we were going to take, or places to stay along the way. Gordon told us we could stay with the wedding party at a castle on a hill in Monteriggioni. We had no plans so we were open to the idea.
Rome was a little scary, but once we hit the back roads, the ride turned surreal. The roads in Italy are smooth, the curves numerous and long. Traffic off the main highways was light and the scenery spectacular. It reminded me a lot of Northern California, just on a grander scale.
Four hundred kilometers (or 240 miles) later we arrived at the castle. The wedding party was staying in a villa down the hill from the castle. A little past 10:30pm, in complete darkness we rode up the drive to the front gates of the villa. The wedding party was happy to meet Gordon's new friends and we were fed a delicious home cooked meal. But there was no place to stay! That night at 11:45pm we were lucky enough to find a place to stay about 1 mile down the road from the villa.
In Italy most of the buildings have window coverings on the outside which are designed to block all incoming light.  We went to sleep that night without setting an alarm. Oops. Because of the jet lag and blackout windows, we didn't wake up the next morning until 11:00.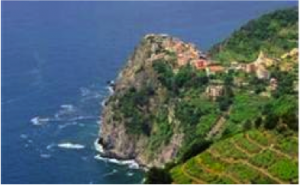 The next day we rode to Lucca, a walled city. On the way we stopped in Siene for breakfast and Volterra for lunch. We would park the motorcycles out front and walk through the town. One major advantage to riding the motorcycles was parking. The roads are narrow and parking spaces are at a premium. With a motorcycle, parking is easy to find.
The next day we left Tuscany and headed to the coast. We rode through La Spevia and detoured to the Cinque Terre on the way out, a very rugged terrain with a series of 3 ridges leading the coast. At the top of each ridge is an old town, three in total. We would start at sea level and ride up to the top of the ridge, visit a town and then ride back down to sea level, before repeating a similar trip two more  times.
We continued to ride up the coast to Albissola Marina, where we spent the night. This part of the ride was a relatively straight road along the coast, similar to riding up the Pacific Coast Highway in Southern California. When we reached Albissola, it was late afternoon and we were tired. After a quick shower we found a popular restaurant down the road from our hotel.  Kyle's advice, "if it's crowded it must be good." He was right on both accounts.
Riding the Best Road in the World
The people in Italy seem to take it slow during the day and then come out at night to socialize.  It's a very relaxing environment. Each night we would sit down and layout where we would like to ride the following day. The next morning we woke up early and headed east to Lake Como.
At this point in the trip we were putting in more miles each day than I had originally planned. Kyle was interested in getting to the Alps and riding Stelvio Pass, the world's best driving road according to the TV show Top Gear.
So we took off, passing through Lake Como on the way. We spent the night in Menaggio, located about half way up the lake.
The next morning we woke up and had a nice breakfast along the lake before heading into the Alps. The start of Stelvio pass resembled a race track. Bikers dressed in full leathers and bright-colored sports cars dotted the tw
isty road. The sound and speed of it all was incredible. We could see the entire road snake its way up the mountain, filled with a constant stream of performance junkies and daring drivers.
That night we stayed in a religious dormitory in Bolzano.Bolzano has a beautiful central plaza and in the evening we enjoyed having dinner outside and walking around afterwards with a gelato.
The End of Our Journey
The next morning we headed out for the Dolomites. The pass we crossed was not as spectacular as Stelvio Pass but the trip into Venice was incredible. It had a passing resemblance to Vail, only much larger. Everything was bigger, the meadows, the towns, the ski areas, everything.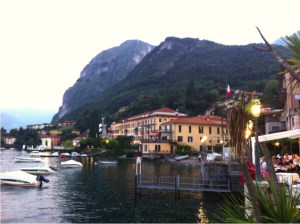 We arrived in Venice and parked our bikes in the middle of town. While Venice is a beautiful and a very unique place, our experience was that there was so much more away from the tourist areas. We spent an hour in Venice, and then headed out to Verano were we spent the night.  Verano is the fourth most popular tourist city in Italy. It's a popular place for Japanese tourists who stop there to see the home of Romeo and Juliet. What impressed me the most was the size of the public plaza, the number of restaurants with outdoor seating, and the coliseum (the only coliseum in Italy that continues to host events, such as opera and concerts).
On our final day we took a lazy ride from Verano to Milan. We spent our last evening in a small town outside of Milan with Homero, the gentleman who rented us the motorcycles. He took us to a small neighborhood restaurant where we were treated as special guests.
The Trip of a Lifetime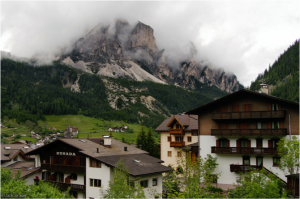 Coming back from the trip I was filled with excitement about our accomplishment. It would have been easy to play it safe on this trip. Take the train, take a tour bus, go with the flow. Instead we decided to be bold and confident in our abilities to make it work. We didn't listen to other people's opinions about our choices; we moved forward knowing it was about us and not them.
We prepared thoroughly, gaining riding experience while making some good decisions about equipment. There was an overall plan, but we left the door open for spontaneity by not micromanaging the trip. The rewards in life come from at you from many directions, but one of the greatest is overcoming seemingly impossible scenarios.
That's what we did on this trip, and the rewards will be a lifetime of memories for my son and I, remembering the time we rode motorcycles across Italy in the summer of 2012.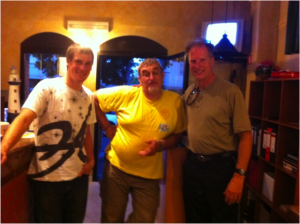 The opinions voiced in this material are for general information only and are not intended to provide specific advice or recommendations for any individual. To determine which investment(s) may be appropriate for you, consult your financial advisor prior to investing.

Securities offered through LPL Financial. Member FINRA/SIPC
https://prosperion.us/wp-content/uploads/2017/02/whitelogosized.png
0
0
Craig Arfsten
https://prosperion.us/wp-content/uploads/2017/02/whitelogosized.png
Craig Arfsten
2012-08-17 21:28:37
2017-05-23 13:11:53
The Italian Job